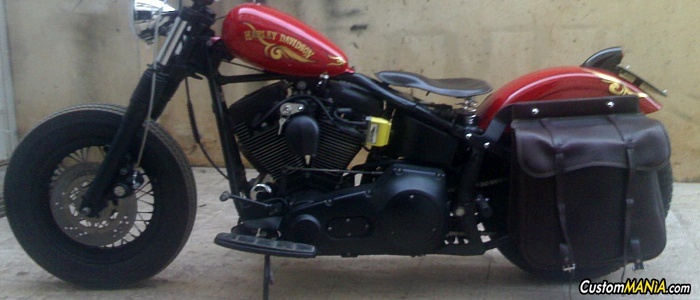 Brand and model:

Customization style:

Biker:

Rating:
Sorry: english translation is not available yet.
Il nome dice tutto, cattiva ma con un pizzico di eleganza!
Harley Davidson Softail 1340 anno 1992. Trasformata Bobber, completamente revisionata di motore e ciclistica; telaio sabbiato, base antiruggine e verniciato nero opaco.
Verniciatura rosso "Euro Red" House of Kolor, con applicazione foglia d'oro 23 karati e striping nero di "Captain Blaster", il tutto sotto trasparente lucido.
Golpe
Handmade accessories
Filtro aria Drilled Disc cromato; scarichi 2 in 2 Fishtail cromati e nastrati.
Aftermarket accessories (temporaneo)
OMP: Trasmissione finale a catena; ruota posteriore su cerchio in acciaio a raggi da 15" a canale rovesciato. Parafango dedicato e gomma 200; ruota anteriore su cerchio acciaio a raggi e gomma 130 old style.
Performance Machine: Pinza freno posteriore, tubi freno post. e ant. in treccia metallica
W&W Cycles: Pulsante avviamento sul solenoide; bobina Eccel; serbatoio acciaio stile Bob con tappo pop-up; pedane anteriori old style; kit completo comandi manubrio con pompa freno e gruppo leva frizione cromati; pulsante clacson e commutatore luci old style; Kit abb
Wild Hog: Sella mono Z3 Wild hog in cuoio con molle; borsone laterale in pelle Wild hog;
Aftermarket accessories mounted on GOLPE
No catalog available for GOLPE