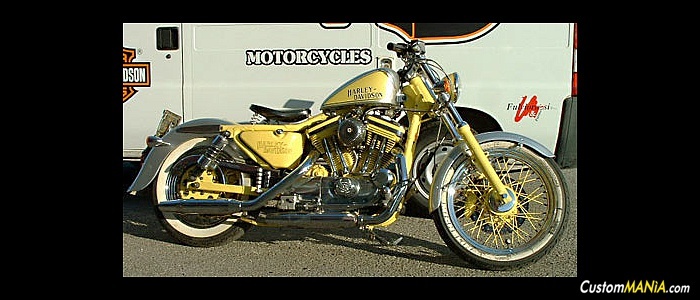 Brand and model:

Customization style:

Customizer:

Biker:

Rating:
Sorry: english translation is not available yet.
Sei stata la prima, seguita da altre ma sempre la prima, capite, la mia prima Harley.Da quando ti ho avuta, il mondo perfetto avrebbe dovuto trasmettere Easy Rider negli asili e mandare le elementari in gita a Milwaukee, alle medie fra le materie di studio sarebbe stato indispensabile una "tecnica del V-Twin" abolendo i centimetri per i pollici, e così a scorrere affinchè il sangue di ognuno di quei ragazzi scorresse non in vene ma in tubi aereonautici per arrivare ad un Mikuni da 45 mm il loro nuovo cuore.Quando è entrato in garage il telaio, comprai solo quello!! La difficoltà fu quella di non mischiare gli stili e le epoche, il difficile credo sia stato quello di saper togliere pezzi anzichè aggiungere, ed ecco che ho iniziato ad aggiungere la carrozzeria, parafanghi, serbatoio forcella, il motore ha subito una cura da cavallo, rincamiciato e portato a milledue! non ho messo delle piastre larghe come i sorrisi di una prostituta e neanche una sella che ti spezza le ossa e ti sembra di imitare una posizione da kamasutra, insomma il mio custom credo mantenga quello che il suo nome promette, è una motina che non crea scosse telluriche quando dai gas, non sposta l'asfalto... lo macina, non nasce per fare casello/casello ma per portarti in giro con un ferro pieno di sé, capace di trasmettere, anche a chi lo vede, delle "buone emozioni".Insomma la prova che l'avventura nel nostro mondo non finisce mai.Spero vi piaccia.
Handmade accessories
Aftermarket accessories mounted on 883: the perfect number!
No catalog available for 883: the perfect number!